Interface design of any complexity
We solve business issues with the help of design and don't beautify them. We help increase conversions, advertise products and serve customers.
There are 18 designers in the team. We select a designer with strong skills in the required sphere for the project and add other specialists: 2D and 3D illustrators.
The project starts in 2 weeks, if your lawyers are ready on time. We answer within a day and estimate simple projects in two days. Then we sign the documents and start work.
We are experts in fintech, marketplaces and telecom. We understand every project quickly and don't spend client money on prototypes for simple services and in industries where everybody is an old hand at all tasks.
Expertise in organizing big data for banks, crypto-exchanges and retail
We make complex things simple: we organize large amounts of information, build navigation and help the user to complete the targeted action without nerves and calls to the support service.
If the business is complex, then we devote more time to detailed research, analysis of the audience and its needs. If we identify a lot of pitfalls, then we make prototypes. But more often we are ready to offer a solution without spending hundreds of hours studying the sphere and onboarding.
Design to build on for the future
We make a detailed high-quality design that will allow you to solve new business issues quickly and at minimal cost. To do this, we collect UI kits to organize and unify hundreds of elements: buttons, icons, checkboxes, fields, headers, menus, lists, selects, notifications, modal windows. The developers will be happy.
The design system is the language thanks to which designers and developers live in harmony.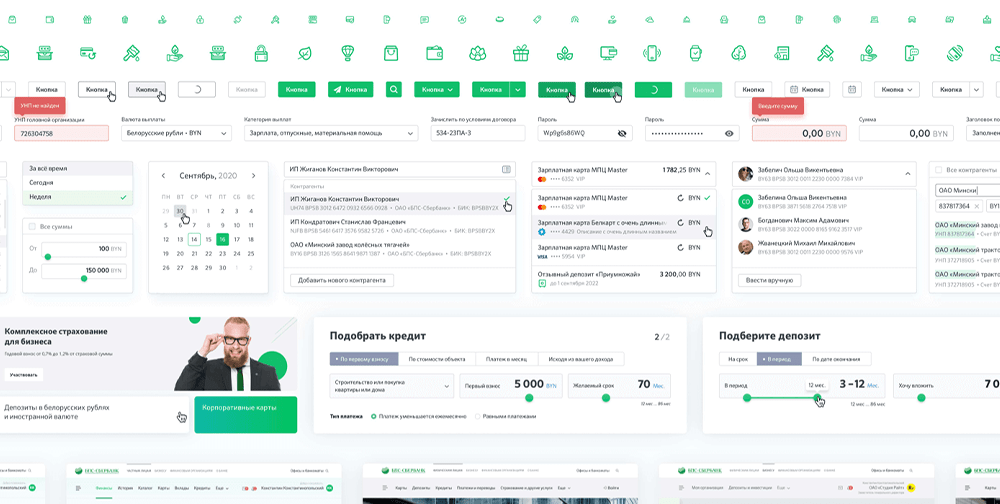 Process transparency and business synchronization
We check with the client at every stage, and don't remain silent for several months until we do it perfectly. After the feedback, we discuss the solution options and go on. After one, two or three iterations, the layout turns into the final design.
Everything is visible in Figma
Art directing
Scrum, Lean, Agile
Daily, weekly reports