Brand identity creation
We create branding and identity for complex digital products. We cut the chase and understand your complex project at once. We are great at banks, classifications, and fintech projects. We deal with business processes, know the market professionally and don't spend millions of hours on learning the field.
We take into account the needs of business
Companies don't come up with a request like 'We need branding'. They say, 'We need a logo / corporate identity.' But after a couple of interviews about the plans and development of the company, it becomes obvious that the request is broader than just the development of the logo.
For start-up companies and new products
We offer the development of basic elements of identity such as logo, color, font.
We will prepare typography and layout rules, color schemes, corporate patterns, media design techniques, advertising and illustrations.
For companies and products that have been on the market for a long time
We will make redesign. If the company's identity has developed on its own during existence, we maintain continuity and take the best features of the existing style. To this basis we add something new that characterizes the company: trends of work, sales markets and features of the strategy.
Identity is more than just a logo. It is important, but not sufficient to express the identity of a company or product. In a well-formed brand, the logo is only a part of the visual identity.
We work on different kinds of communication with clients
So as to keep a brand sustainable, it is important to deal with four communication media: visual, verbal, sensual and interactive. It is similar to the human sense system. Our approach to work — 'Identity-360' — exactly consists of this.
As the identity develops, there rise all ways of communication between business and clients, for instance, counter decoration, application interfaces or corporate gifts for exhibitions.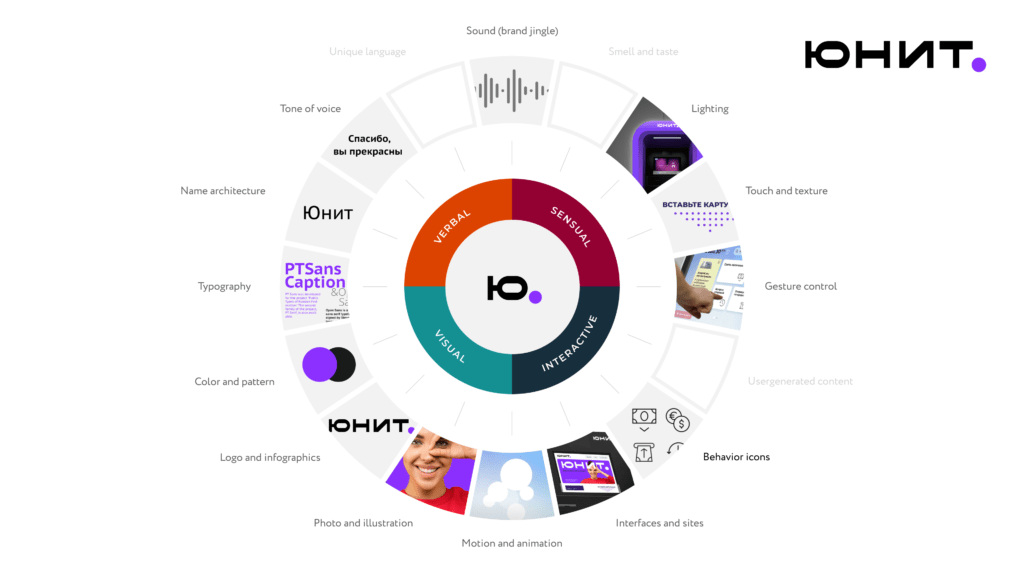 ---
Disclaimer or something like that
We don't work with weapons manufacturers, political organizations, state media, online casinos and meat-processing factories. We'll hardly find a common ground if you need marketing design, wow effect, creative logo.